Beat yoga-mat germs with a slice of cedar!
18th October 2016
Feeling embarrassed every time you expose your feet in a yoga class? Worried about catching a nasty fungal infection from your exercise mat? Don't stress – ZEDERNA cedar wood shoe insoles could be the answer you're looking for!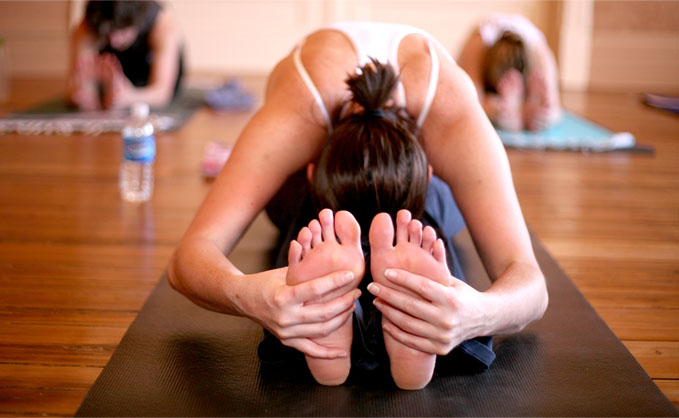 We've all been there. You turn up for your yoga class full of the joys of exercise, take one look at your naked feet and want to curl up with embarrassment. Months of wearing shoes and socks, plus a little neglect, mean that your feet are not always in the best of shape. Perhaps there's a whiff of something unpleasant, or worse you are suffering from a nail fungus or athlete's foot. You are not alone – it seems even yogis take shortcuts with their foot-care regime.
"Yoga mats are a very fertile source for infection,
mainly because people sweat on them."
Add to that the fear that your yoga mat might be making matters worse. Dr Robert Lahita, a microbiologist and professor of medicine at the Rutgers School of Medicine in New Jersey, recently told The Times newspaper that yoga mats were "a very fertile source for infection, mainly because people sweat on them and they rarely are cleaned". Even if you invest in your own clean yoga mat, it could still pick up bacteria from the floor of the yoga studio. Yikes!
There's no escaping the fact that our feet are prone to fungal infections, particularly in warm, moist environments where there has been a lot of barefoot traffic, such as communal yoga mats and changing rooms. In each foot alone, you have more than 250,000 sweat glands, making feet one of your most perspiring body parts and an easy target for fungal growth.
"There's constant humidity," explains Dr med Johannes Wimmer of University Medical Center Hamburg-Eppendorf (UKE). "And the humidity is a perfect environment for bacteria and fungus, leading not only to a strong odour, but also to the problem you might get athlete's foot or a nail fungus."
Cedar wood insoles – the natural solution
But don't despair! When you are done with your downward dog, there is a natural solution to prevent fungal foot infections and eliminate any excess sweat. Roll up your yoga mat and slip on a pair of ZEDERNA cedar wood shoe insoles, which are naturally anti-bacterial and anti-fungal, thereby maintaining good foot hygiene.
"ZEDERNA cedar wood insoles are sweat-absorbing,
deodorizing, and naturally anti-bacterial."
"If you don't want to use deodorants, powders and other chemicals, I recommend the cedar wood insert," says Dr Johannes, who also runs his own medical advice website in Germany. "It's made of real cedar wood, making it perfectly flexible. It fits in any shoe, you just have to pick the right size."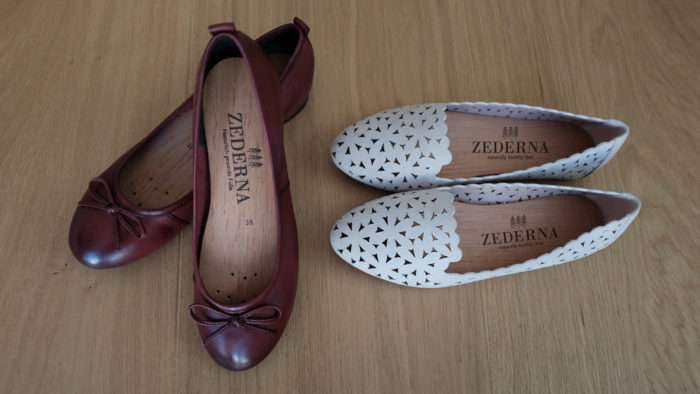 The natural oils from the cedar deodorise your feet, while the structure of wood soaks up the moisture, keeping your feet clean and dry. Next time you turn up at your yoga class, you could remove your shoes and socks with confidence! ZEDERNA's insoles are also 100% natural and free from any harmful chemicals. If you want to find out more about the magic of cedar wood, why not visit the ZEDERNA Online Shop and give them a try now!
Three yoga exercises to keep your feet healthy
To keep your toes in tip-top condition, you could also focus on a few foot-friendly exercises. Certified Pilates instructor Laura Vann recommends the following workouts to increase strength and flexibility:
Firecracker toes – crouch down on the floor and tip forward gently until your knees touch the floor. Then shift your weight backwards onto your toes so that joints are being stretched out. Roll back onto your heels and repeat as necessary.
Roll 'em out – sit down on the floor with your legs outstretched. Then roll an exercise or stability ball along your shins and over the tops of your feet, exerting gentle pressure on your ankles and toe joints. Repeat as necessary.
Ankle flex – to improve flexibility in your ankles and increase the blood flow to your feet, circle your feet around in a clockwise motion, ignoring any clicks in the ankle joint! After six rotations, circle your feet back the other way.
"Foot massage is also a great idea to keep feet happy!" adds Laura.